Are you looking for the best Google apps to supercharge your digital life? Look no further! In this post, we'll take a deep dive into the top 5 best Google apps in 2023 that have proven to be indispensable for millions of users worldwide. From communication tools to navigation aids, these apps cater to a diverse range of needs and interests.
Introduction
Google is a global leader when it comes to innovative software solutions, and its suite of apps is no exception. Our selection of the top 5 Google apps is designed to help you streamline your work, stay connected, and navigate your way through the digital landscape with ease. We'll explore these apps and find out why they made our list.
What are the benefits?
1. Google Chrome: As the world's most popular web browser, Google Chrome delivers a fast, secure, and personalized browsing experience. Its extensive library of extensions and plugins, along with seamless integration with other Google services, make it a must-have for any internet user.
2. Google Drive: Store and access all your files in one place with Google Drive. Offering 15GB of free storage, Google Drive enables you to collaborate on documents, spreadsheets, and presentations in real-time, making teamwork a breeze. Plus, its robust security features keep your data safe from prying eyes.
3. Gmail: Boasting over 1.5 billion active users, Gmail is the go-to email service for people worldwide. Its powerful spam filters, intuitive interface, and useful features, such as Smart Compose, help you manage your inbox efficiently and stay on top of your communications.
4. Google Maps: Navigate with confidence using Google Maps, an app that offers accurate maps, real-time traffic updates, and turn-by-turn directions for over 220 countries and territories. With features like Street View, indoor maps, and detailed business information, you'll never be lost again.
5. Google Ads: Expand your business's online reach with Google Ads, a powerful advertising platform that connects you with potential customers through targeted ads. Businesses of all sizes can create and manage effective marketing campaigns with Google Ads thanks to its flexible budget options and user-friendly interface.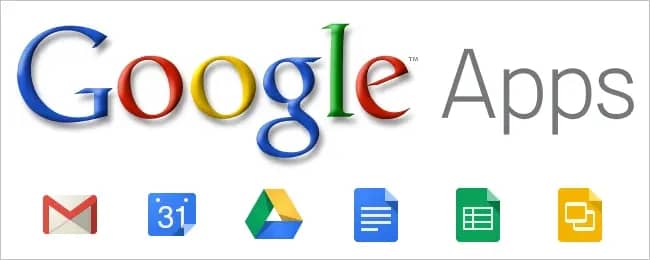 Feature Highlight
Google Chrome: The latest Chrome version boasts a sleek, modern design with improved tab management, making it easier to navigate multiple websites simultaneously. Additionally, Google Lens allows users to identify and learn more about objects around them by pointing their cameras at them.
Google Drive: Google Drive has introduced features like file shortcuts and advanced search options, making it easier for users to locate and organize their files. Moreover, Google Workspace (formerly G Suite) enhances collaboration by combining Drive, Docs, Sheets, and Slides into a single, unified experience.
Gmail: The updated Gmail interface allows users to customize their inbox layout and appearance, making it more visually appealing and user-friendly. Furthermore, Chat and Meet integration within Gmail enables seamless communication and collaboration with your contacts.
Google Maps: The "Live View" feature in Google Maps uses augmented reality to overlay directional arrows and street names onto your camera view, helping you navigate unfamiliar places easily. Additionally, the newly added "Indoor Mode" offers detailed maps of large indoor spaces, such as shopping malls and airports.
Google Ads: Machine learning has made Google Ads even more powerful, as it now predicts your ads' performance and recommends optimizations to improve their effectiveness. Additionally, Smart Bidding enables users to automate their bidding strategies based on specific goals, such as conversions or return on ad spend.
Top 5 best Google apps vs other apps
| Google App | Other Apps Compared | Key Differences |
| --- | --- | --- |
| Google Chrome | Mozilla Firefox, Microsoft Edge, Safari | Google Chrome offers faster browsing speeds and a wider range of extensions compared to its competitors. |
| Google Drive | Dropbox, Microsoft OneDrive, iCloud | Google Drive offers more collaboration features, such as real-time editing and commenting, compared to its competitors. |
| Gmail | Microsoft Outlook, Apple Mail, Yahoo Mail | Gmail offers a more user-friendly interface and powerful search functionality compared to its competitors. |
| Google Maps | Apple Maps, Waze, MapQuest | Google Maps offers more accurate and up-to-date maps, real-time traffic updates, and a wider range of recommendations for nearby locations compared to its competitors. |
| Google Ads | Facebook Ads, Twitter Ads, LinkedIn Ads | Google Ads offers a wider range of targeting options, including location, interests, and demographics, compared to its competitors. |
Conclusion
In conclusion, Google apps offer a range of benefits that can help you stay organized, productive, and connected. With their user-friendly interfaces, powerful features, and robust security, Google apps are a reliable choice for anyone looking to enhance their digital experience. While each app has its strengths and weaknesses, we recommend giving them a try and finding the ones that work best for you. Overall, we highly recommend these top 5 Google apps for 2023.