The most magnificent sights of nature can be viewed via your trusty binoculars, including sweeping mountain panoramas, eagles soaring above, and that prized deer entering the clearing. But if the optics become smeared and damaged, the wonder and awe seen via those lenses can rapidly turn to annoyance. Learning the specialized methods for taking the best possible care of your investment in high-powered lenses is necessary to keep them in pristine condition. Discover how to safely and completely clean binoculars both inside and out by following this instruction.
My Experience on How to Clean Binoculars
As a deer hunter, I always make sure to be extra careful when cleaning my binoculars. The precision optics are delicate and can easily be damaged if I'm not cautious.
Before doing any cleaning, I take a close look at my lenses using a bright light and magnifying glass. That way I can inspect for any cracks, chips, or deep scratches in the glass itself. If I see any major defects, I know not to attempt cleaning those areas myself, but instead take them for professional service.
When wiping down the lenses, I'm very gentle and always use a circular motion from the center outward. Pressing too hard when rubbing could end up grinding debris into the glass and leave irreversible scratches. I just use minimal pressure and repeat the process if needed.
I never use improvised lens cleaners like my shirt or breath to wipe away dirt. That's an easy way to scratch your lenses. I stick to high-quality microfiber cloths and proper binocular lens cleaning fluids designed specifically for optics. No taking chances with my prized birding binoculars!
One rule I never break is avoiding any moisture getting inside the binoculars. I make absolutely sure they are fully dry before closing them up in the case or bag. Even a little trapped moisture can cause permanent fogging issues over time. The insides are not something I want to mess with – I let the pros handle any internal cleaning needs.
By treating my binoculars gently, using the right specialized cleaners, and storing them properly, I can enjoy years of crisp, clear views. It's worth taking those extra precautions to care for high-quality lenses and optics.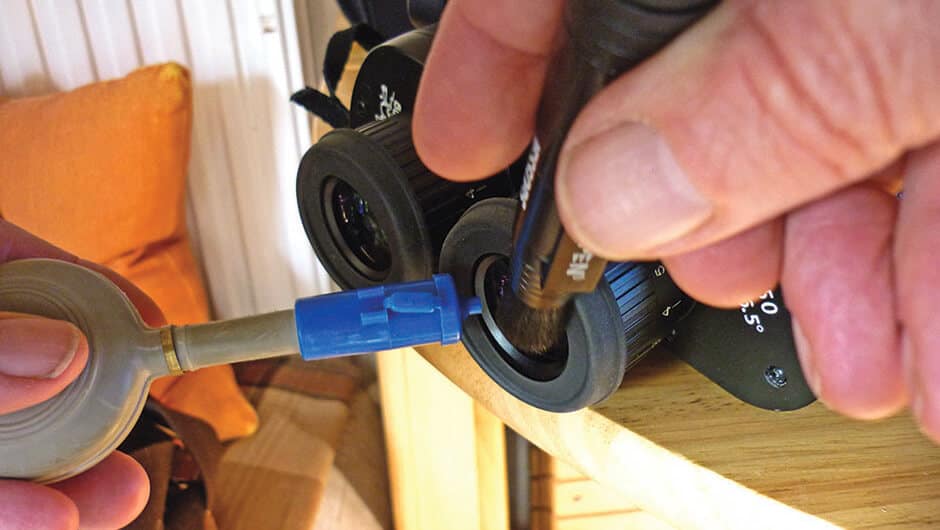 Exterior Cleaning
Brush away loose debris. Use a blower brush or compressed air to gently dislodge any dust, dirt, or particles on lenses before wiping. This prevents scratching.
Dampen microfiber cloth. Wet the cloth with binocular lens cleaner fluid or distilled water. Never use tap water – minerals can stain lenses.
Wipe lenses in a circular motion. Gently wipe using a circular motion from the center of the lens outward. Apply minimal pressure.
Clean exterior body. Use a soft damp cloth with mild soap if needed for the binocular body. Avoid harsh chemicals.
Fully dry all surfaces. Wipe lenses and body with fresh microfiber cloth to absorb any moisture. Check seals for lingering wetness.
Lens Scratch Removal
Inspect closely. Use a magnifying glass in bright light to locate the extent of scratching. Note if in coating only or on glass.
Try lens cleaner first. Optical grade lens cleaners contain mild abrasives that may reduce coating scratches. Use a circular rubbing motion.
Consider professional help. For deep glass scratches, professional lens refinishing may be required. This involves expert polishing.
Rubber Armor Care
Remove stickiness. Wipe sticky rubber armoring with alcohol-dampened microfiber cloth using minimal pressure. Reapply as needed.
Revive grip. Rubber can be revived using silicone sprays or rubber rejuvenating oils. Apply and let soak in. Buff lightly with a cloth.
Check for cracks. Inspect armor for any cracks or defects. Super glue can temporarily repair small cracks. Replace if severe.
Interior Condensation Issues
Allow time to dissipate. Storing binoculars in an airtight case while cold can cause interior condensation. Allow a few hours for this moisture to dissipate.
Consider professional help. If lenses remain consistently foggy, moisture may have entered internally. The manufacturer or authorized repair shop can address this safely in a cleanroom environment. Never attempt to open binoculars yourself.
With regular gentle cleaning and proper care, quality binoculars will provide years of optimal performance. Always handle lenses carefully and never expose binoculars to temperature extremes. By following these best practice cleaning tips, your optics will stay in sharp, crisp viewing condition every time you lift them to your eyes.
Final Thoughts
Spectacular sights and distant details are never out of reach with a set of well-maintained binoculars close at hand. You can count on your binoculars to give clear, crisp views day after day, year after year, if you learn how to take the necessary care that high-quality optics demand. They will turn every trek, athletic event, and outdoor experience into a front-row seat to nature's greatest show if handled gently, stored properly, and cleaned frequently. Keep your binoculars in top shape so that the view will always be inspiring. They represent a world of wonder.